Work's Boat 'Dennis G'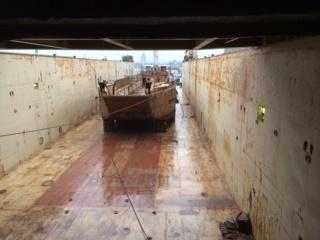 The vessel was designed and built by D & D Fabrications to sail for the Manchester Ship Canal Company. The hull was constructed from steel, fully welded and featured three compartments.
We invited TR Little to inspect the vessel prior to launch to carry out a survey. The specifications including the length (28 feet), breadth extreme (9'6") and moulded depth (3'0") were found to be in order. The vessel is propelled by a 3 cylinder air cooled Lister Marine diesel engine which drives a single 3 bladed fixed pitch propeller via a reversing reduction gearbox. The vessel is fitted with 110v electric power and hydraulic power for the Hiab crane which is fitted at the forward part of the main deck.
One of the client's main specifications was that the vessel should be able to carry a load of 5000kg. Testing demonstrated that the vessel could safely hold that weight.
The vessel was taken for a test run around the dock, demonstrating its maximum speed of six knots.
Overall, D & D Fabrications was pleased with the construction and found the vessel suitable for the intended purpose. Thanks to its capacity, shallow draught and equipment outfit, 'Dennis G' is particularly suitable for maintenance works and safety boat on the Manchester Ship Canal Company.
Further to the completion of a number of tests and trials, the owners were awarded a Manchester Ship Canal Seaworthiness Certificate and renewed every year.